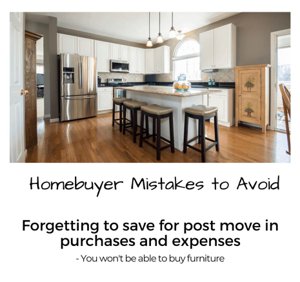 Buying a home is an exciting experience but can come with a lot of hidden cost you may not think about. Forgetting to save for post move in purchases and expenses is definitely a mistake you will want to avoid. Homeowners insurance, closing cost, property taxes, moving cost, and furniture are all expenses that should be considered for post moving.
Homeowners Insurance is a must! Before purchasing a policy, shop around and find a policy that's right for you. Read company reviews and don't just settle. Homeowners Insurance gives peace of mind and is there through natural disaster, fire, or other major events.
Closing Cost is where you'll spend the most of your money, but it's also an exciting step of the buying processing. This step is where the home's title is transferred from the seller to you! If you've taken out a mortgage, you'll sign the mortgage note and officially finance your home. Make sure you're signing hand is ready, you're about to sign a lot of papers!
Moving Cost will surprise you. Whether you are moving across town, state or country you will want to set funds aside for moving. The cost of boxes, moving trucks, packing supplies and movers quickly adds ups.
Furniture. You just bought a beautiful home, maybe you want a new living room set to show case or perhaps the movers dropped the box labeled dishes. No matter the case you are going to want to fill YOUR new home full of NEW things. Plan ahead and budget for furniture!
In closing, make a budget, plan and stick to it! Once you move in to your new home that's when the fun begins, that's when you start to turn your house into a home!